I will be mostly inactive on FANDOM until around June, meaning I won't be able to edit pages regularly. However, I will check my message wall, so if you need me for anything feel free to leave a message.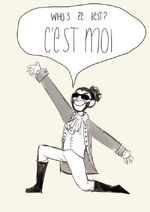 Hey! I'm Mist, and you can find me editing at Hamilton wiki and Paladins wiki.
If you want to contact me you can leave a message there or on my Community Central wall.



Fav artists
Fav songs
I usually like trap and hardcore bass. In most cases I hate releases with vocals, unless it's has really good vocals like in Hunted. Also, I like the beat for Ballin' and it would've been so much more tolerable the lyrics weren't so cringey lol