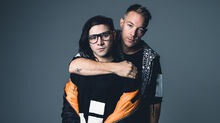 "Knowledge is knowing that chillstep is a type of dubstep. Wisdom is keeping it the fuck out of your dubstep playlist." - Flero
I'm ItsFlero, but just call me Flero, haha. When I'm not listening to dubstep or browsing dank memes, I'm probably either eating or asleep, but hopefully not simultaneously.
Some of my favourite Monstercat artists
Edit
I'm Ari Paunonen, and this is my EDM shop. I work here with my old man and my son, Going Quantum. Everything in here has a buildup and a drop. One thing I've learned after 5 years - you never know WHAT is gonna appear on that visualiser.
Community content is available under
CC-BY-SA
unless otherwise noted.