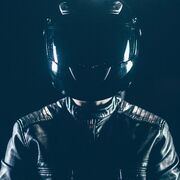 "

The producer behind the PYLOT project hopes to establish and grow an interactive experience with a thrill ride of dramatic irony for the listeners. PYLOT invites you to help him piece together any information that could ultimately lead to the discovery of his own identity.

"
PYLOT
General Information
Secondary Genre(s)
Synthwave
In-Depth Information
Years Active
2014 - present
Currently Signed To
Monstercat
Logo

On the Web
PYLOT is an electronic music producer of uncertain origins. They made their debut on Monstercat with their track "After Dark", which is featured on Monstercat 021 - Perspective.
Background
Edit
The day "After Dark" was released on Monstercat—along with an accompanying story about an amnesiac man awakening following a brutal mugging—PYLOT created their social accounts. With each release of theirs comes an accompanying journal entry and other documents featuring clues and other important features that hint to the man's former identity.
Monstercat uploads
Edit
[ v • t • e ] Artists, Vocalists, & Remixers
Non-Monstercat Artists
Haddaway • Justin Bieber • Kings of the City
Artists whose songs have been remixed and released on Monstercat but who are not affiliated with the Monstercat record label.