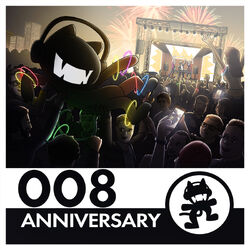 Monstercat 008 - Anniversary is the eighth album released on the Monstercat label. It was released on July 27th, 2012.
Tracklist
Direct - Free My World (Dubstep)
Chris Ramos - Emergency (feat. Natasha Waterman) (Progressive House)
DotEXE - Hipster Cutthroat (Glitch Hop / 110BPM)
Skifonix - People Say (feat. Stella Talpo) (Electro)
Stereotronique - Exoskelephone (Electro)
Pegboard Nerds - Pressure Cooker (Drumstep)
Televisor - L.I.F.E. (feat. Iris) (Nu-Disco)
Eminence - Ocean City (Trance)
Hot Date! & Insan3like3 - Clocks (feat. Chrisson) (Electro)
Rogue - Daybreak (Dubstep)
TVDS - Black Sky (Glitch Hop / 110BPM)
Stephen Walking - Live It Up (Dubstep)
Direct - Saga (Dubstep)
Rezonate - Revolt (feat. Amelia Rose) (Dubstep)
Droptek - Vice (Dubstep)
Tut Tut Child - Don't Push Me (Dubstep)
Tristam & Stephen Walking - Too Simple (Drumstep)
Rogue - Dynamite (Electro)
Pegboard Nerds - Rocktronik (Electro)
Muzzy & Day One - Black Magic (Drumstep)
Anniversary Album Mix (57:05)
Community content is available under
CC-BY-SA
unless otherwise noted.