"

"Empowering a passionate community through innovation."

"

– Monstercat Slogan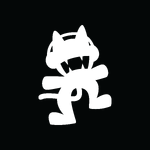 Monstercat (previously Monstercat Media) is an EDM record label based out of Vancouver, Canada.[1] Mike Darlington, CEO,[2][3] Ari Paunonen, COO, Ephixa, Going Quantum, and a few un-named friends of theirs founded Monstercat in July 2011.[1]
Unlike other labels that sign artists to exclusive label deals, Monstercat signs their artists on a per-track basis, giving them full copyright to a song while still giving the artist freedom to release other productions where they see fit.[4] Darlington and Paunonen created compilation albums to provide artists with a method of releasing their music and attempt to lessen the competitiveness between them.[5]
History
Founding
In July 2011, Mike Darlington (CEO) and Ari Paunonen created Monstercat as a YouTube channel.[1] and Paunonen's friends to share and promote their music.[1][2][6]
Milestones
The first single on the label was Dubstep Killed Rock 'n' Roll by Ephixa which was released on July 4, 2011.
In December 2011, Monstercat signed Krewella,[1][2][6] an American electronic dance music group from Chicago, Illinois; Killin' It being their first original song released by a label.[2][7] Krewella later became an internationally recognised name, and brought attention to the growing label.
In June of 2014, Monstercat reached one million record sales. [8]
January 30, 2017, after the release of Gareth Emery and STANDERWICK's Saving Light featuring HALIENE, it has reached #1 on the Best of Trance List on Beatport; furthermore, reaching #1 across multiple digital stores. This has become the first Trance song to do this since over a decade ago. Because of the popularity of this song and having a large audience to Monstercat, Trance was confirmed/deemed to be revived. Sequentially, on the very last "A State of Trance" show of 2017, Saving Light was crowned as the Anthem of 2017, giving the song the Anthem status.
Marshmello's Alone was certified Platinum in the United States in October 2017, and in Canada in April 2018.
As of November 10, 2019, the Uncaged YouTube channel Mike Darlington and Ari Paunonen founded back in 2011 has grown to 7.45 million subscribers. The channel currently ranks 828th for total number of subscribers. [9][10]
As of November 10, 2019, the Instinct YouTube channel Mike Darlington founded in 2018 has grown to 537,000 subscribers. After almost 2 years, it currently ranks 31,127th for total number of subscribers. The channel reached more than 40,000 subscribers before it's first released song, Didrick's Ready To Fly featuring Owl City's Adam Young on January 9, 2018. [11][12]
Release Schedule
Originally, Monstercat released three new tracks per week on Mondays, Wednesdays, and Fridays with an hour-long podcast every Tuesday (entitled Monstercat: Call of the Wild, previously Monstercat Podcast).
In 2017, after thirty compilation albums (001 - 030), Monstercat unveiled a major branding titled Monstercat: Uncaged and compilation albums included a collaboration of veteran Monstercat artists, totaling 31 songs and an album mix per album.
Since 2018, with the inclusion of the brand Monstercat: Instinct, Monstercat uploads songs for Uncaged on Mondays and Thursdays, Instinct on Tuesdays and Fridays, and Call of the Wild is released every Wednesday.
The number of songs released on a compilation album recently is 40 and an album mix per album.
External Links
References
Community content is available under
CC-BY-SA
unless otherwise noted.