Into The Light is a track by Notaker, with vocals by Karra. It's a part of the Monstercat Uncaged Vol. 6 compilation and is also featured as the second of six tracks on his PATH.FINDER EP.
Tasty's Exclusive Extended Mix Upload
[
edit
|
edit source
]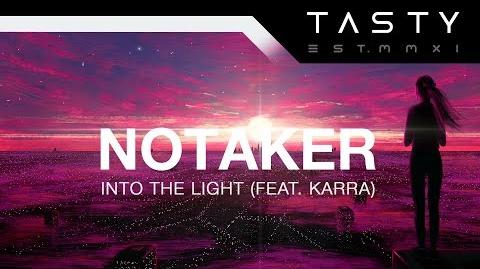 [ v • t • e ]
Notaker
(Discography)
Songs
April 22, 2016
Infinite
November 14, 2016
Gems
February 6, 2017
Shimmer
July 5, 2017
Wake Up, You're Dreaming
October 2, 2017
Who I Am
October 24, 2017
Just Close Your Eyes • So Much Love • Terra
January 23, 2018
Too Smooth
September 17, 2018
The Storm
January 31, 2019
Into The Light
March 18, 2019
Each Other
April 8, 2019
The Longest Night • Melophonic • Only In My Dreams
October 24, 2019
From Dust & Ashes
[ v • t • e ]
Alphabetical List of Dubstep Songs
(Genre)
Tips
Tips
The word "The" doesn't mean it occurs mostly in the "T' section; rather, it is excluded so that the next word after the word "The" (e.g.: "The Alchemist's Nightmare") will occur in that specific letter (e.g: "A'). • We target any song that has full similarities with that specific genre. If you think it is wrong, you're wrong.
Community content is available under
CC-BY-SA
unless otherwise noted.