Head of NASA and The 2 Amish Boys is the upcoming eleventh album by Psychedelic Trance duo, Infected Mushroom. It received its first single, with the album available for preorder on November 8, 2018, and will be released on December 12.
Presave + Preorder:
Trivia
The "Head of NASA" in the album title is a reference to Jim Bridenstine, the current head of NASA.
Initially, the album cover was going to use a template that was more like the single and EP templates from 2016 onward. But after some complaints, they reverted back to the original template.

Below was the original artwork they were going to use. Above is the original LP template. Note that the catalog tags look similar but different in size.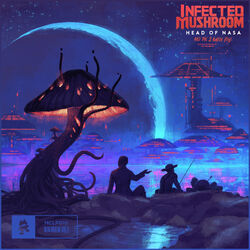 [ v • t • e ]
Infected Mushroom
(Discography)
Songs
November 24, 2017
Spitfire
August 30, 2018
Walking on the Moon
November 8, 2018
BLiSS on Mushrooms
December 10, 2018
Guitarmass
December 11, 2018
Lost in Space
December 12, 2018
Chenchen Barvaz • Head of NASA • Here We Go Go Go
July 4, 2019
Kababies
January 20, 2020
Ani Mevushal
February 3, 2020
Freedom Bill
March 16, 2020
Only Solutions
March 23, 2020
Infected Megamix • More Of Just The Same • No Line in MIDI • Splicon
Template:Long plays