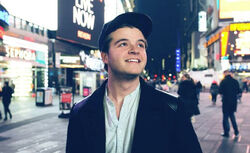 Haywyre is the stage name of Martin Vogt from Minneapolis, MN. He is currently signed to the Monstercat label.
Biography
Vogt had been studying piano since he was six years old. His interest in the production of various genres of electronic music and piano instrumentals began growing when he lived in Austria; there, he was exposed to jazz and hip-hop for the first time. After moving back to the US in 2008, he created the Haywyre moniker and started producing music that was a fuse of glitch hop and jazz.
Haywyre has release several albums, EPs, and singles since his debut in 2008.
Discography
Albums
Lotus (Self-released) - 2009
Of Mellows And Revelations (Self-released) - 2010
Dubsonic (GruntWorthy) - 2011
The Voyage (GruntWorthy) - 2012
Two Fold Pt.1 (Monstercat) - 2014
Singles/EPs
Encompassing (Caliber Music) - 2012
Infinite (Caliber Music) - 2012
Draw The Line (Adapted Records) - 2012
Back And Forth (Monstercat) - 2013
Mr. Bill & Haywyre - Dress Codes (Mr Bill's Tunes) - 2013
Synergy ‎(Monstercat) - 2013
Everchanging ‎(Monstercat) - 2014
Insight ‎(Monstercat) - 2015
External links